Here at Plumcreek Acres we have been using Bloom products in my our breeding program for years. We have had great success with Bloom and the quality of pups we raise . All dogs are started and remain on Bloom supplements for as long as they are here. I strongly suggest all pups born here stay on it for life. Another quality supplement for over all good health is Nuvet . 
To avoid Paypal fees please pay balance to Melissa at PayPal friends and family. Email is plumcreekacres@gmail.com send me a email to let me know you placed an order and for what .
We are know take payment through cash app. please text melissa at 724-541-7548 and I will send the link for my cash app account. The reason no fees for either of us. 
Dog Bloom Supreme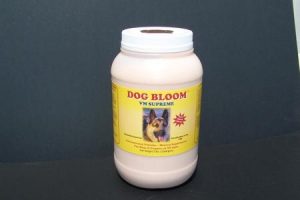 The highest level vitamin-mineral supplement for dogs especially formulated for high stress conditions. Nothing like it anywhere! Contains all 16 recognized vitamins at highly effective levels for heavy stress: racing and heavy training. Hunting dogs. During pregnancy and lactation. Stud dogs. Heavy show schedules and exposure. Hyperactive dogs. During periods of illness, worm infestations, and worming. Puppies and growing dogs. Allergic dogs, dry flaky skin & poor coat. This product can be safely used on any dogs or pups whether under stress or not! 96% success rate in relieving skin allergy symptoms and dry, flaky skin!
Dosage – 1 tsp per 25 lbs of body weight
**FIRST – SELECT THE SIZE YOU WANT – THEN YOU CAN CHOOSE THE QUANTITY YOU WANT**
11 oz 95 tsp Bloom Supreme $20 + 7.00 shipping
2 lb 275 tsp Bloom Supreme $35 + 10.00 Shipping
5 lb 760 tsp Bloom Supreme $72 + 12.00 shipping
Dog Bloom Performance Bloom Gluco Plus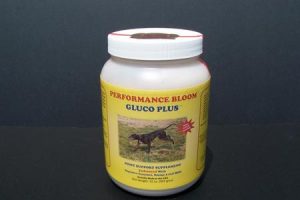 Great for treatment AND protection of joints. A 3 in 1 product for pets with stiff joints.
I recommend this for all large/Giant breed dogs to start around age 4 or if any signs of sore joints show up earlier.
Glucosamine & Chondroitin for repairing & lubrication of joints.
MSM & Omega 3-Natural anti-inflammatory properties
Digestive enzymes to aid in the absorption of ingredients High Potency Glucosamine, Chondroitin, MSM, enhanced with digestive enzymes and Omega 3!
Convenient powder formula for individual dosing and great chicken liver flavor!
Analysis per teaspoon
Glucosamine 700 mg.
MSM 400 mg.
Chondroitin 550 mg.
Dosage – 1/2 tsp per 25 lbs of body weight.
9 oz bottle 63 tsp Performance Bloom $32   32.00 + 7.00 shipping
15 oz bottle 105 tsp Performance Bloom $51.00 + 8.00 shipping
32 oz bottle 224 tsp Performance Bloom $96.00 + 10.00 shipping
Dog Bloom M-121
Specially formulated for use during periods of extra heavy demands for calcium, phosphorus, and other minerals such as pregnant and lactating bitches, pups and growing dogs to maturity. Dog Bloom M-121 helps produce larger, stronger litters and a good flow of milk from the bitches.
Dog Bloom M-121 is essential to help build strong bones, good feet, and teeth in pups and growing dogs to maturity.
I start my pregnant moms on this 2 to 3 weeks before due date. I notice better milk supply and shorter labors.
Important Factors For Use
When using this product, always use it in combination with Dog Bloom Super VM Supreme or Dog Bloom VM250. They provide the vitamins that make Dog Bloom M-121 work.
Dog Bloom M-121 should be discontinued after maturity, except in the case of pregnant and nursing bitches. Dog Bloom Super VM Supreme, or Dog Bloom VM250, however, should continue to be used
Dosage – 1 tsp per 25 lbs. body weight
5 oz bottle 33 tsp Dog Bloom M121 $8.00 + 7.00 shipping
1.5 lb bottle 158 tsp Dog Bloom M121 $19.00 + 10.00 shipping
6.5 lbs 686 tsp Dog Bloom M121 $42.00 + 12.00 shipping
Dog Bloom Xtrabloom Digest
A unique blend of beneficial digestive bacteria, enzymes, and FOS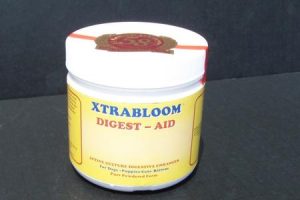 Great Cheese Flavor Aids in proper digestive action during times of: stress from travel, boarding, or showing, diarrhea or upset stomach, antibiotic therapy or illness Also useful in establishing "good" bacteria for newborns! Safe and Effective With Any Diet!
Use daily to increase feed absorption, consistency of stools, and protect against digestive upsets. **FIRST – SELECT THE SIZE YOU WANT – THEN YOU CAN CHOOSE THE QUANTITY YOU WANT*
This I use when I introduce solid food and during weaning. Works great for pups/adults with sensitive GI tracts.  Use with any antibiotic treatment to help keep GI tact working like it should.
Dosage – 1/8 tsp per 20 lbs body weight
3 oz bottle 96 doses Xtrabloom Digest $16.00 + 5.00 shipping
8 oz bottle 256 doses Xtrabloom Digest $33 + 7.00 Shipping
Dog Bloom Xtrabloom Wate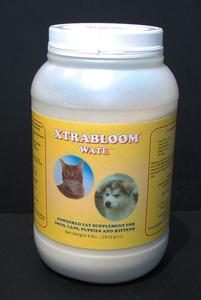 An excellent Source of essential fatty acids for: Underweight or finicky eaters, improving skin and coat condition, energy boost during times of illness or convalesce. A MUST IN EVERY BREEDING PROGRAM! Given during last week of pregnancy maintains bitches energy levels and increases liveliness of newborns for more vigorous live born. PROVEN! Bitches produce higher quality and quantity of milk.
Maintains peak condition of Bitches for quicker recycling and rebreeding.
**FIRST – SELECT THE SIZE YOU WANT – THEN YOU CAN CHOOSE THE QUANTITY YOU WANT**
This we use on our nursing mothers to well keep their bodies well condition. I also use it help with pups or adults that are having trouble maintaining ideal body condition. I like my puppies with a little extra body condition. I feed this during time of weaning it helps keep them gaining weight.
Dosage – 1 tsp per 25 lbs. body weight
4 oz bottle 109 doses Xtrabloom Wate $10 + 7.00 shipping
1 lb bottle 434 doses Xtrabloom Wate $23 + 10.00 shipping
4 lb jug 1736 doses Xtrabloom Wate $55 + 12.00  shipping
Contact me and let me know how I can help.