Regular Kitty Bloom
Formulated with 15 Vitamins, 10 Minerals and Taurine Proven Essential in the Feline diet!Combats dry, flaky skin and dull coatEnhances coat color for show animalsBoosts immune system against disease and infectionImproves reproductive successIncreases feed efficiency through improved absorption of foodsBalanced nutritional support during critical periods of stress or illnessHelps prevent excessive sheddingReduces risk of cardiovascular, retinal and reproductive disorders —Concentrated powder form with REAL CHEESE— Great for finicky eaters Proven safe and effective with millions of cats and with all types of diets.
Click here for Kitty Bloom Comparison Chart #1
| | |
| --- | --- |
| 3 oz bottle 132 doses kitty bloom $12 | |
| 8 oz bottle 352 doses kitty bloom $25 | |
| 1 lb jug 704 doses kitty bloom $38 | |
| 4 lb jug 2816 doses kitty bloom $86 | |
Kitty Bloom Xtrabloom Wate
An excellent Source of essential fatty acids for Underweight or finicky eaters, Improving skin and coat condition, energy boost during times of illness or convalesce. A MUST IN EVERY BREEDING PROGRAM! Given during last week of pregnancy maintains queens energy levels and increases liveliness of newborns for more vigorous live born. PROVEN! Queens produce higher quality and quantity of milk.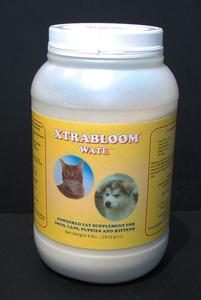 Maintains peak condition of queens for quicker recycling and rebreeding **FIRST – SELECT THE SIZE YOU WANT – THEN YOU CAN CHOOSE THE QUANTITY YOU WANT**
| | |
| --- | --- |
| 4 oz bottle 109 doses kitty Xtrabloom Wate $10 | |
| 1 lb bottle 434 doses kitty Xtrabloom Wate $23 | |
| 4 lb jug 1736 doses Kitty Xtrabloom Wate $50 | |
Kitty Bloom Xtrabloom Digest-Aid
A unique blend of beneficial digestive bacteria, enzymes, and FOS Great Cheese Flavor Aids in proper digestive action during times of Stress from travel, boarding, or showing, diarrhea or upset stomach, antibiotic therapy or illness. Also useful in establishing "good" bacteria for newborns! Safe and Effective With Any Diet!  Use daily to increase feed absorption, consistency of stools, and protect against digestive upsets.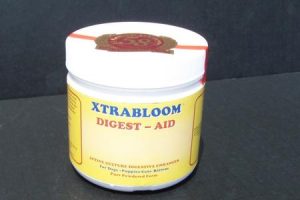 **FIRST – SELECT THE SIZE YOU WANT – THEN YOU CAN CHOOSE THE QUANTITY YOU WANT**
| | |
| --- | --- |
| 3 oz bottle 96 doses Kitty Xtrabloom Digest $16 | |
| 8 oz bottle 256 doses Kitty Xtrabloom Digest $32 | |