The Girl's boyfriends live here on the farm!! 5 generations were created from this Honest Breeder !
Sweet little place!
Bob and Danielle Daley
2022-12-19
3 weeks ago I purchased a mini golden doodle. Melissa answered every text I sent and all questions I had when arriving at her house. I have had many dogs and it is unbelievable the disposition of Hazel. I have never had such a well behaved, socialized, sweet, loving, cuddling dog. In addition, she is so smart!! She is 14 weeks almost and I got her when she was 12 weeks and within 2 days, she was potty trained. In addition, Melissa was very honest when I asked her questions about the other available puppies. I told her I wanted a calmer type dog and she told me the other 2 dogs I wanted to visit with would be way more active. Would recommend Melissa to anyone, she is just not breeding and selling puppies, you can tell they are quality dogs!!!!
100% recommend! My goldendoodle puppy is healthy and happy, and he has the best personality I have ever seen in a dog. 2 year update: my friends got Bobo's half brother from Melissa after seeing Bobo and the two are best friends. Both can't be friendlier or healthier. They are perfect. They're both F1 mini goldendoodles but Seiko is a bit bigger and got longer legs.
Barbara Lockwood
2022-03-17
Melissa at Plum Creek Acres has wonderful healthy dogs & puppies. I just love my puppy that I have from her. I like the fact that she has the parents health tested & has OFA passing scores on her adult dogs. Her kennel is bright with a lot of natural light, ceiling fans & heat for the cold days & A/C on for them when it's hot outside. Her dogs look real nice & healthy. My puppy had no parasites & tested OFA good when she was old enough to have her X-rays. I will buy from her again. I couldn't be happier with my Golden Retriever.
Great Breeder
I adopted my goldendoodle, Sunny, from Plum Creek Acres 1 1/2 years ago . This breeder is awesome. She is professional, caring and accommodating. Our Sunny is a wonderful companion, loving and affectionate. True to her breed. The best dog I've ever had!


When you are coming to see the pups, they will be in the office. The office is on the side of our home. We no longer allow visitors into the kennel due to insurance liability and the added stress it places on the mothers.
Why choose Plumcreek Acres for your next family pet?
For over 25 years, I have had the good fortune of doing something I genuinely love: raising English Cream Golden Retrievers, Irish Setters, Aussie doodles, Irish Doodles, and Golden Doodle puppies in Home, PA, finding them loving homes, and helping various other animals stay healthy with quality health supplements.
Please get to know Melissa and her family.
I've always had an affinity for animals, and my passion for dogs started long before I began raising them with my children. Dogs especially have played a significant role in my life and my children's lives, as evidenced by my two children, Kiersten Gromley and Bryce Gromley, who are co-owners of  Plumcreek Acres LLC and other animal-related activities. My daughter, Kiersten, has been showing dogs, hogs, and goats for 14 years and has recently branched off to help the judges at the shows. Kiersten also helps handle the dogs and gets them prepped and ready for the ring. Kiersten has a Master's Degree in Speech-Language Pathology, where she earned a 3.5 GPA while playing two sports for Clarion University. I credit her work drive to being raised here on the farm with animals. My son, Bryce, age 20, is also active in the show world, and with his love of animals, we have ended up having a small zoo. Bryce is our kennel's primary dog handler, enjoys showing his livestock, and is also a Future Farmers of America (FFA) member. Bryce is the owner of all the Irish Setters. Bryce has used his ownership in the business as his FFA SAE project. I am proud to announce Bryce has earned the Keystone State Degree and is a Western Pa Star Award representative for the company.  Bryce has also branched out with fresh, natural pork and grass-fed beef. Please email us if you are interested in all-natural pork or grass-fed beef. I am proud of all I  have achieved in life, but I am most proud of the children I have had the honor to call my kids. With great pride, I get to announce I am a Memaw to a beautiful girl that we call Addison (Addie) Mae. Addison will continue the long line of strong women in my family called Mae and mostly the love of puppies.
What we offer at Plumcreek Acres.
At Plumcreek Acres, we offer English Cream Golden Retrievers, Golden Doodles, Irish Doodles, and Irish Setter puppies for sale in the Indiana, PA area. Our kennel is fully licensed, and my personable puppies are raised on 22 acres of open field, giving them the unique opportunity to run freely and swim in nearby creeks. During their time with us, each Plumcreek Acres puppy is treated as if they are our own and is fed Paw Tree Food and given Dog Bloom Supplements. My puppies are renowned for their superior pedigree, fun-loving personalities, and loyal companionship. A large part of what makes the quality of these pups so high is the use of Dog Bloom Supplements, and I highly suggest that all puppies purchased from Plumcreek Acres stay on them for the remainder of their lives. I am a proud dealer of Dog Bloom and stand behind the use of their various performance, nutritional, and health supplements for dogs. If you have any questions about the health supplements we use for our dogs or supplements for cats or equine animals, I would be happy to help. We ship nationwide, including Florida, New York, California, Texas, and Massachusetts.
I love helping my English Cream Golden Retrievers, Irish Setter, Aussie Doodle, Irish Doodle, and Golden Doodle puppies find lovely homes where they can live long, happy, and healthy lives. It has been my life's work to continue learning to achieve longevity in my pups and pets. Like my dad always says, if it has four legs and a wiggle. I will love it and bring it home.  If you want to learn more about our upcoming litters or the Bloom health supplements for dogs, please get in touch with me at  724-541-7548.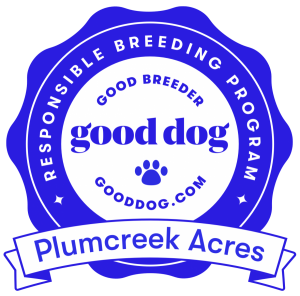 Save