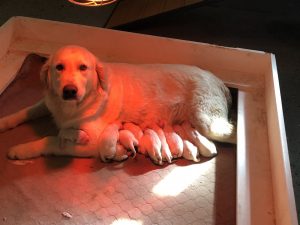 Clair and Ryder litter is here 5 females and 5 males
http://k9data.com/pedigree.asp?ID=887517
July litter ready date September deposit order
1 Anthony female
2 brian  female
1. Georgina Male
Deposit 400.00 on the Golden Doodle, Golden Retrievers or Irish setters. Deposits are Non-refundable after pups are born. We offer shipping both ground and air for an extra fee. We use Pittsburgh International Airport. Shipping ranges from 350-450.
Full 100 % English Cream  prices are 2000 limited AKC  Registrations pets only. We offer  Full AKC registration  breeding and show rights for 3500 . Melissa always reserves 1st pick to keep improving the breeding program at Plumcreek Acres.
Males 
We are eating puppy food mush and starting to play some.
Next litter of Full English Cream Golden Retrievers.
Ryder and Duchess or Faith 
(test breeding entered 2/2018)
Pedigree: