All timeframes are estimates . Being the dogs only come into heat 2 times a year and being they are a living animal sometime things don't go as we plan. The dog may not come into heat on schedule , my not conceive and not all pregnancy will go to term. We can also have small litters . So your patients is greatly appreciated. All great breeders with top quality dog are worth the wait and we will always have a wait list. 
We are now taking applications and wait list fee. The application and fee will place you on our waiting list for breed and sex of your choice.  It is a 100.00 NO REFUNDABLE FEE no exceptions . After each litter is born we will contact  families in the order the applications came in. You have 48 hours to decide if this is the right litter for you and to secure your pup with the reminder balance of deposit . The balance is due at time of pick up.
Payment options are : Cash App Melissa Gromley $plumcreekpups

Zelle 724-541-7548 Melissa Gromley

Venmo Melissa Gromley 

check 534 Ambrose rd Home PA 15747

Please text me before or after making deposit so I know to place you on the waiting list. Balance is due at time of pick up prefer method is CASH …
USE CODE PLUMCREEK FOR YOUR 25% OFF YOUR LIFETIME MEMBERSHIP . HIGHLY RECOMMENDED!!!
Shipping, delivery or meeting you part way is EXTRA. I have to hire someone to do it or watch the dogs.
food https://www.pawtree.com/plumcreek/myrecommendation/Plumcreek's-Puppies-Going-Home- please allow 1 week for delivery .please text Melissa with desired day and time you want to pick up your baby. order food
Use code INTRO4U and receive 20% off up to 20.00 dollars off first order. When you place on ezship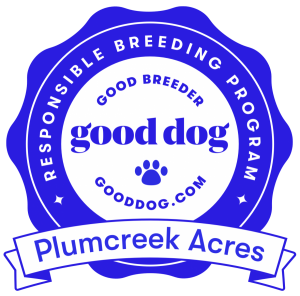 We are now partnering with Baxter & Bella to offer my puppy parents a lifetime training company .Use code Plumcreek for 25% off lifetime training membership.
Standard Goldendoodle wt 45 and above
Solid black 1600
black and white 1700
red or red and white 1800
parti 1900
PRICE FOR MINI GOLDENDOODLE
adult wt under 45 lb
2500  solid color
2700 bold abstract
3000 parti color
All pups receive the standard deworming every 2 weeks, Microchipped soon after birth for ID , vaccinated at 6 weeks and vet checked before leaving .(as long as there is no emergency with the vets office)
F1 golden doodle is 50% golden Retriever and 50% Standard poodle. Their weights range from 60-65 Females and 70-80 males . Some can go ever way on the weight range. The golden doodle breed is very smart, loving and quick to learn. They are very friendly , they never meet a stranger and love to cuddle and play. Their coats can range from a straight coat to medium curl . They are usually low shed we have had no to medium shed. Their coats require maintenance of brushing and grooming .
F1B is a goldendoodle breed back to a poodle. Witch makes your pup 75%poodle and 25% golden retriever.  This makes pups smaller framed and lighter weight. Our pups weighs have ranged from 45-55 females 50-60 males. This gives the pups a very low to no shed. their coats are medium to tight curl. They will need brushed and groomed to maintain their appearance.