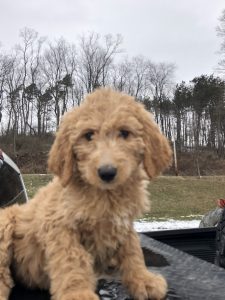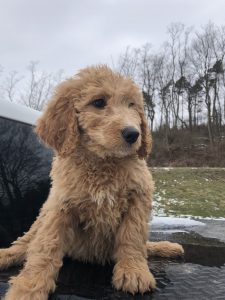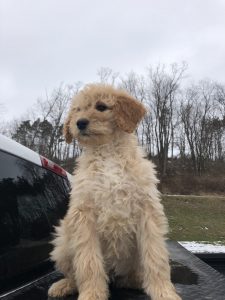 ANGEL 8 WEEKS AND AVAILABLE
CAROL 8 WEEKS AND AVAILABLE
PRICE IS 1800
Order your TLC pet food puppy pick up is just around the corner.
https://www.tlcpetfood.com/66839-1025
Vet checks are all normal and vaccines are started . Final de-worming in process. Pups are using their potty box eating hard puppy food. 
Ginger and Marty Pups Born 11/08. 
F1 golden doodle is 50% golden Retriever and 50% Standard poodle. Their weights range from 60-65 Females and 70-80 males . Some can go ever way on the weight range. The golden doodle breed is very smart, loving and quick to learn.They are very friendly , they never meet a stranger and love to cuddle and play. Their coats can range from a straight coat to medium curl . They are usually low shed we have had no to medium shed. Their coats require maintenance of brushing and grooming .
F1B is a golden doodle breed back to a poodle. Witch makes your pup 75%poodle and 25% golden retriever.  This makes pups smaller framed and lighter weight. Our pups weighs have ranged from 45-55 females 50-60 males. This gives the pups a very low to no shed. their coats are medium to tight curl. They will need brushed and groomed to maintain their appearance.