Please remember to order your puppy food  http://www.pawtree.com/plumcreek   please text Melissa with desired day and time you want to pick up your baby. order food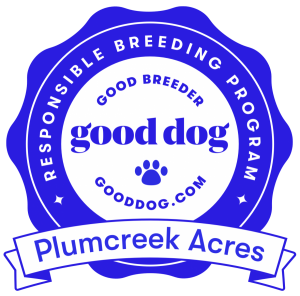 Ginger and Beethoven babies are here. we are taking deposits to determine pick order. 5 males and 2 females
Taurus Is very sweet, calm and wanting to please the humans. He has a loose curl and green eyes. He is so sweet he will come sit and wait to be pet.
Beretta has a tight curl coat . He is very sweet and LOVES attention and people.
Boys
Please remember to order your puppy food  http://www.pawtree.com/plumcreek   please text Melissa with desired day and time you want to pick up your baby.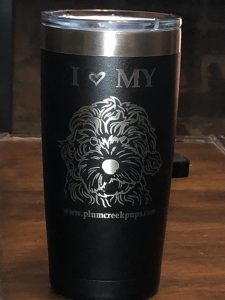 If you like to order a tumbler they are 23.00 plus ship
PRICE IS 1800
All pups receive the standard deworming every 2 weeks, Microchipped soon after birth for ID , vaccinated at 6 weeks and vet checked before leaving .
Ginger and Beethoven  Pups due Nov will be F1B 
Deposits and pick order
Female
1.Heidi Garnet
2. Patty Ruby
3. Kristin coral
4. Joseph (kimber)
F1 golden doodle is 50% golden Retriever and 50% Standard poodle. Their weights range from 60-65 Females and 70-80 males . Some can go ever way on the weight range. The golden doodle breed is very smart, loving and quick to learn.They are very friendly , they never meet a stranger and love to cuddle and play. Their coats can range from a straight coat to medium curl . They are usually low shed we have had no to medium shed. Their coats require maintenance of brushing and grooming .
F1B is a golden doodle breed back to a poodle. Witch makes your pup 75%poodle and 25% golden retriever.  This makes pups smaller framed and lighter weight. Our pups weighs have ranged from 45-55 females 50-60 males. This gives the pups a very low to no shed. their coats are medium to tight curl. They will need brushed and groomed to maintain their appearance.