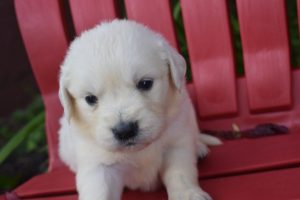 Whether you are a Bengles or Brown fan, all the great people of the Ohio State can agree on the fact that  Plumcreek Acres Golden Retrievers are the best. If you want to feel like you just had a pick 6 to win the super bowl with only seconds left in the 4th quarter , you can have that everyday when you own a Plumcreek Acres Golden Retriever. They are always there to greet you and make you feel like a million bucks. 
Plumcreek Acres' Golden Retrievers are found in homes all across the great state of Ohio.  You can find them in farm lands running the fields alongside a tractor , or the inner cities strutting their beautiful golden coats on their evening walks. Golden retrievers are a great family pet. They are almost human-like . You can almost tell what they are thinking with their soulful eyes.
English Cream Golden Retrievers for Sale in Ohio
I have been raising this incredible breed of English Cream Golden Retrievers for 11 years and the American Golden Retriever for 6 years before that. The Golden Retriever was developed in 1860 in Great Britain to hunt game birds whether on land or water. Their instincts are still strong after all these years. The Golden Retriever can play fetch for hours . Golden retrievers are great family pets and just love children.I have raised this breed of Golden Retriever alongside my children for years. They are just such great family pets and great emotional support dogs. They are very intelligent and do great as service dogs or just to learn tricks for treats. Their beautiful coats are show stopping. The time you spend doing the regular brushing is quality bonding time.  So if you have a son, plan on going through a few footballs from the hours  spent  in the backyard playing a game of fetch.You might even have the next Joe Burrow in the making with all the hours of backyard fetch. Even if your child never plays professional football , his golden retriever from Plumcreek Acres will be his greatest fan. Contact us today!
Sweet little place!
Bob and Danielle Daley
2022-12-19
3 weeks ago I purchased a mini golden doodle. Melissa answered every text I sent and all questions I had when arriving at her house. I have had many dogs and it is unbelievable the disposition of Hazel. I have never had such a well behaved, socialized, sweet, loving, cuddling dog. In addition, she is so smart!! She is 14 weeks almost and I got her when she was 12 weeks and within 2 days, she was potty trained. In addition, Melissa was very honest when I asked her questions about the other available puppies. I told her I wanted a calmer type dog and she told me the other 2 dogs I wanted to visit with would be way more active. Would recommend Melissa to anyone, she is just not breeding and selling puppies, you can tell they are quality dogs!!!!
100% recommend! My goldendoodle puppy is healthy and happy, and he has the best personality I have ever seen in a dog. 2 year update: my friends got Bobo's half brother from Melissa after seeing Bobo and the two are best friends. Both can't be friendlier or healthier. They are perfect. They're both F1 mini goldendoodles but Seiko is a bit bigger and got longer legs.
Barbara Lockwood
2022-03-17
Melissa at Plum Creek Acres has wonderful healthy dogs & puppies. I just love my puppy that I have from her. I like the fact that she has the parents health tested & has OFA passing scores on her adult dogs. Her kennel is bright with a lot of natural light, ceiling fans & heat for the cold days & A/C on for them when it's hot outside. Her dogs look real nice & healthy. My puppy had no parasites & tested OFA good when she was old enough to have her X-rays. I will buy from her again. I couldn't be happier with my Golden Retriever.
Great Breeder
I adopted my goldendoodle, Sunny, from Plum Creek Acres 1 1/2 years ago . This breeder is awesome. She is professional, caring and accommodating. Our Sunny is a wonderful companion, loving and affectionate. True to her breed. The best dog I've ever had!
Sandra Lefdahl
2018-09-14
Takes wonderful care of her moms and pups. A breeder that truly cares and loves what she does. So helpful!