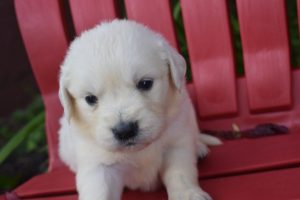 New York loves Plumcreek Acres Golden Retriever, Mini Goldendoodles, Irish Setters and Mini Irish Doodles. We have been raising our children alongside our dogs in Home, PA for the last 16 yrs. In those years we have sold  many Golden Retrievers, Mini Goldendoodles and Mini Irish Doodles in New York City, they are taking the Big Apple by surprise .  Our Golden Retrievers and Irish Setters that we have had for sale in the past that went on to live in upper New York love bird hunting and the country living. So whether you are a big city  or country living we have the apple of your eye in one of our Golden Retrievers, Irish Setter or mini doodle . We offer ground and flight nanny service to those wanting to get a Plumcreek Acres puppy. Please hurry, our dogs are usually gone in a New York minute.
English Cream Golden Retrievers for Sale in New York
The golden retriever was developed in Great Britain in 1860. Brought to America in 1890 but not registered with AKC until 1925. This wonderful breed was bred to retrieve game birds whether on land or in water . The Golden Retriever hunting instincts remain strong in today's Golden Retriever. Golden Retrievers love to play fetch and enjoy swimming in ponds or pools. The Golden Retrievers are gentle natured and very intelligent which make them great service dogs or a golden family pet. We offer Golden retrievers for sale in New York .  Our Golden Retriever parents are from  European lines with generations of health testing and champion titles . The golden retriever pups that are for sale in New York will be microchipped, Current on vaccines, dewormed ,AKC limited registration paperwork and sold with warranty up to 2yrs. When you pick up or have delivered to New York your golden retriever will come with a leash, blanket, chew toy, treats and pawTree Gastro Pro Plus.

Sweet little place!
Bob and Danielle Daley
2022-12-19
3 weeks ago I purchased a mini golden doodle. Melissa answered every text I sent and all questions I had when arriving at her house. I have had many dogs and it is unbelievable the disposition of Hazel. I have never had such a well behaved, socialized, sweet, loving, cuddling dog. In addition, she is so smart!! She is 14 weeks almost and I got her when she was 12 weeks and within 2 days, she was potty trained. In addition, Melissa was very honest when I asked her questions about the other available puppies. I told her I wanted a calmer type dog and she told me the other 2 dogs I wanted to visit with would be way more active. Would recommend Melissa to anyone, she is just not breeding and selling puppies, you can tell they are quality dogs!!!!
100% recommend! My goldendoodle puppy is healthy and happy, and he has the best personality I have ever seen in a dog. 2 year update: my friends got Bobo's half brother from Melissa after seeing Bobo and the two are best friends. Both can't be friendlier or healthier. They are perfect. They're both F1 mini goldendoodles but Seiko is a bit bigger and got longer legs.
Barbara Lockwood
2022-03-17
Melissa at Plum Creek Acres has wonderful healthy dogs & puppies. I just love my puppy that I have from her. I like the fact that she has the parents health tested & has OFA passing scores on her adult dogs. Her kennel is bright with a lot of natural light, ceiling fans & heat for the cold days & A/C on for them when it's hot outside. Her dogs look real nice & healthy. My puppy had no parasites & tested OFA good when she was old enough to have her X-rays. I will buy from her again. I couldn't be happier with my Golden Retriever.
Great Breeder
I adopted my goldendoodle, Sunny, from Plum Creek Acres 1 1/2 years ago . This breeder is awesome. She is professional, caring and accommodating. Our Sunny is a wonderful companion, loving and affectionate. True to her breed. The best dog I've ever had!
Sandra Lefdahl
2018-09-14
Takes wonderful care of her moms and pups. A breeder that truly cares and loves what she does. So helpful!
Mini Goldendoodles and Mini Irish Doodles for Sale in New York
Goldendoodles are the corky fun loving cousin. They are very smart,  and have a great personality. They are easy to train and make  great family pets. They love everyone. Goldendoodles became popular in 1990. Goldendoodles come in many colors , sizes and coat types. Melissa will help guide you to the goldendoodle of your dream. We specialize in abstract , parti or merle colors . We love our flashy doodles.  Many of our goldendoodles that have been for sale have gone on to live in New York . We offer our goldendoodles for sale in New York. The sizes we specialize in are Mini Goldendoodles. Mini Goldendoodle are at home in New York apartments or farms .  Our Goldendoodle parents are screened for genetic health issues. The goldendoodle pups that are for sale in New York will be microchipped, Current on vaccines, dewormed ,and sold with warranty up to 2yrs. When you pick up or have delivered to New York your goldendoodle will come with a leash, blanket, chew toy, treats and pawTree Gastro Pro Plus.
Golden Retrievers & Mini Goldendoodles in New York
If you feel a Plumcreek Golden Retriever or Mini Goldendoodle is right for your New York home . We request you to feel out our applications. Upon approval of your application you will be asked to  submit a 100.00 application fee . Once the application fee is received you will be placed on the waiting list. The rest of the process to get one of our pups to you is after they are born you lock in a pup with a 400.00 deposit to Plumcreek to secure pup in current litter. The order deposits are received is the order we go on for picking your  fur baby. If you are not able to pick up a puppy in person we offer facetime, video and pictures to make selection. We do offer ground shipping or flight nanny service to New York