WE ARE NOW OFFERING FRESH CHILLED SEMEN FOR AI. CALL FOR INFO.
---
Int/ Nat SR CH Int BOB CH Plumcreek's Ballistic Bullet stud fee 1800 sold but have litter due from him.
OFA: preliminary Fair
PRA 1 and 2: Clear by Parentage
Ichthyosis: Carrier
Stud service to approved females only.
ht 23 inches
wt 68lbs
Bullet is really maturing into an amazing dog. He is living up to his family tree of multiple International champions. Bullet's mother is imported from Sunnyfield's Kennel in Hungary. He is a proven breeder. He puts great coats, pigment and personality into his offspring. His height is 23 inches tall and weight is 73lbs. Bullet is a happy, ball chasing, creek swimming pup! He is happiest making his people happy. Bullet continues to please us. He went Best of Breed at the IABCA in New York.
---
Nat CH Plumcreek's Epic Shotgun Ryder stud fee 2000
OFA: preliminary Excellent
OFA Hips good GR-123837G29m-pl
GR-EL43473m29-pl
GR-CA33968/31m/p-vpl
PRA 1 and 2: Clear by Parentage
Ichthyosis: Clear by Parentage
ht 23 inches
wt 68lbs
Ryder is a very well breed English Cream Golden Retriever. He is the son of UCI Int CH Montego Double Majik (Epic). Epic is an import from Australia with a long line of champion pedigree from multiple countries. Ryder mom is just as sweet she is UCI Int CH Lake Country's Hope for the Future (Hope). Hope is from the good old USA. She is the daughter of champions and several generations after her are champions and health tested. We are excited to see what this stunning boy mature into. Ryder earned his Nat ch at IABCA in New York it was his first time in the ring. He will mature in to a super show dog. Look forward to seeing what the future holds for him.
Major Zhora
http://www.k9data.com/pedigree.asp?ID=960405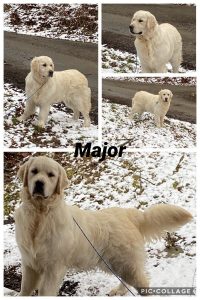 Major will be heath test, titled and then added into the breeding program. He is a big boy with a dense coat and sweet personality.
Eyes of Plumcreek Shine on Goldset  stud fee 1500
AKA Dan the Man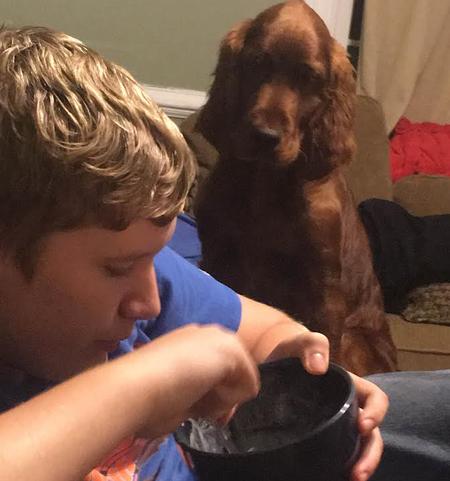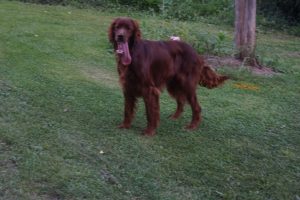 Health Testing
clear by parentage PRA1and 2
Clear by parentage Clad
OFA Preliminary Excellent
Dan is a Very well breed boy that we imported in from Goldset of Romania. He is from Multiple dual country champions. He has a wonderful lay back personality. Dan is working on getting his Therapy Dog Title. Him and Bryce will be volunteering at many of our local nursing homes bring joy to all who meet him.
---
Gingerich's Beethoven stud fee 1500
Beethoven is a beautiful White & Apricot  Parti Standard Poodle. He is 22 inches tall and weighs 45lbs.Beethoveni produces abstract markings on his pups when bred to a solid color mother. Beethoven  is a happy, calm  Standard poodle who loves water and playing fetch. He passes on his fun loving personality to his offspring.
DNA tested
Degenerative Myelopathy                     CLEAR
GM2 Gangliosidosis (poodle type)        CLEAR
Neonatal Encephalopathy with seizure CLEAR
Osteochondrodysplasic                         CLEAR
Progessive Retonal Atrophy                  CLEAR
Von Willebrand Disease 1                      CLEAR
Coat Color tested
A Locas        At/At       Tri color
B locas         b/b            (Beethoven's has brown nose)
D locus        D/D            non dilute
E locus        e/e             he is apricot so he is e/e
K locus       KB/KB     no agouti
S locus       sp/sp    he is a parti
Plumcreek's Cupid Desire
(stitch is a miniature poodle) current weight is 9lb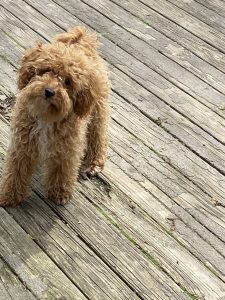 Color panel
K Locus   KB/ky KB/kbr
A Locus   aw/at
S Locus  S/sp
dup/dup
DNA panel clear of all but carrier of DM
---