The Irish doodle is the combination of Irish Setter and Poodle. These pups are an F1 witch means they are 50% Irish Setter and 50% Standard Poodle. Their weight will be around 50-55lb female 55-60lbs males . The Pups should have bold abstract marking on their rich red color. Low shed coat with a loose wave. The red in their coats shouldn't fade.
The pictures are example of Irish doodle this is our first litter. Dad is health tested for 163 canine disease and has excellent hips.
An Irish doodle is a smart fun loving breed. They are lovers , quick learners and athletic.
Solid reds 1500
Abstract 1800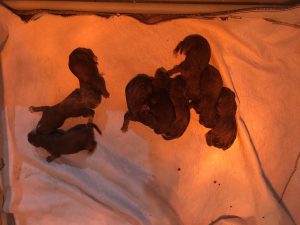 Deposit is 400 either check or Paypal.
Taking deposit