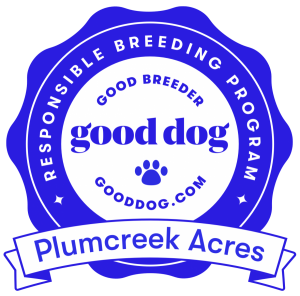 Please shoot me a text at 724-541-7548 verify date and time you plan to pick up your sweet puppy.  All pups have a clean bill of health. 
Don't forget to order your food. Pups do best if they stay on current food.
Use code INTRO4U and receive 20% off up to 20.00 dollars off first order. When you place on ezship . 
http://www.pawtree.com/plumcreek
Non refundable deposit $400.00 if you use paypal there is $15.00 fee Total $1800 . If balance is paid with Paypal or credit card there is 3.5% fee.
We are know take deposit through cash app. please text melissa at 724-541-7548 and I will send the link for my cash app account. The reason no fees for either of us. 
All pups receive the standard deworming every 2 weeks, Microchipped soon after birth for ID , vaccinated at 6 weeks and vet checked before leaving .
The Irish doodle is the combination of Irish Setter and Poodle. These pups are an F1 witch means they are 50% Irish Setter and 50% Standard Poodle. Their weight will be around 55-65lb . The Pups should have bold abstract marking on their rich red color. Low shed coat with a loose wave. The red in their coats shouldn't fade. Irish Doodles don't have the under coat like a golden doodle . Their coats will be finer silkier hair witch should help with lower shed and less mats.
F1B Irishdoodle are 75%poodle and 25% Irish setter their color should be abstract,tuxedo and parti red and white.