Please shoot me a text at 724-541-7548 verify date and time you plan to pick up your sweet puppy.
Vet checks done , all in good health. Final deworming being done. Remember to order your puppy food  https://www.tlcpetfood.com/66839-1025
Non refundable deposit 400.00
We are looking for a family to call our own. 1 male  available now.
Only 2 without Deposits>>>>>>>>>>>
The Irish doodle is the combination of Irish Setter and Poodle. These pups are an F1 witch means they are 50% Irish Setter and 50% Standard Poodle. Their weight will be around 50-55lb female 55-60lbs males . The Pups should have bold abstract marking on their rich red color. Low shed coat with a loose wave. The red in their coats shouldn't fade. Irish Doodles don't have the under coat like a golden doodle . Their coats will be finer silkier hair witch should help with lower shed and less mats.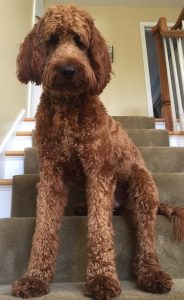 Above pictures is an  example of Irish doodle typical coat and color.  This is our first litter. Dad is health tested for 163 canine disease and has excellent hips.
An Irish doodle is a smart fun loving breed. They are lovers , quick learners and athletic.
Solid reds 1500 , Bold Abstract 1800
17 days heads up eyes open and crawling and getting a little vocal.
11 Days old eyes are starting to crack and we are tring to crawl and lift our heads.
Boys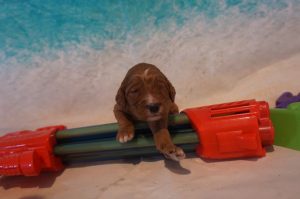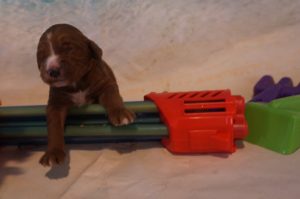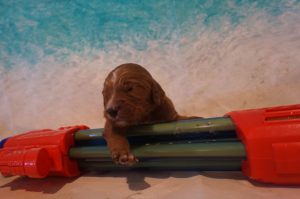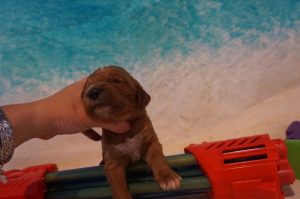 5 days old eat sleep and poop that is what we do.
Abstract 1800
Deposit is 400 either check or Paypal.
Taking deposit
Suzan 8th pick
1st female Debra (Porsche)
2nd female Joanie (Mercedes)
3rd female Sheldon  (Audi)
4th female Zane  female
1st male Mandy Mcgeachy Lincoln
2nd pick Brianne  Rolls
3rd Lauren (Bentley)