Pick up time is a coming. Please make sure to order your food pups always do best if they stay on the same food. We also recommend the gastro pro plus to help keep the GI track healthy with the change of water . The link is https://pawtree.com/plumcreek/product/GM2002  the recipe we feed is the chicken and sweet potato. We only have Verizon Cell service here so if you are paying via app and have a different carrier please pay before hand.
If you are on the list with a deposit please text me at 724-541-7548 your contact info
HIGHLY RECOMMEND , USE CODE PLUMCREEK TO GET 25% OFF YOUR LIFETIME MEMBERSHIP.
We are planning late fall pups early winter. Shipping, delivery or meeting you part way is EXTRA. I have to hire someone to do it or watch the dogs
We accept 400.00 deposit via : Cash App Melissa Gromley $plumcreekpups
Zelle 724-541-7548 , Venmo Melissa Gromley or check please text me before or after making deposit so I know to place you on the waiting list. Balance is due at time of pick up prefer method is CASH …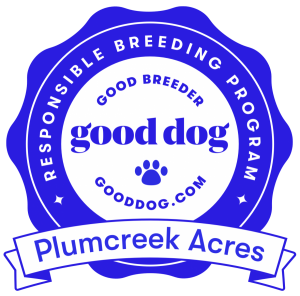 Shipping and delivery is extra
I
Mom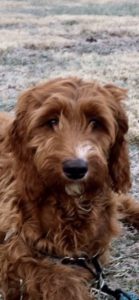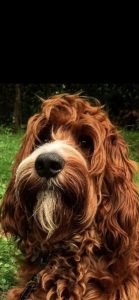 Dad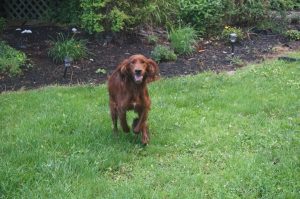 mom
Mom to the F1 she is the Mother of the 2 moms of the F1b litter.
Please shoot me a text at 724-541-7548 verify date and time you plan to pick up your sweet puppy.  All pups have a clean bill of health. 
Don't forget to order your food. Pups do best if they stay on current food.
Use code INTRO4U and receive 20% off up to 20.00 dollars off first order. When you place on ezship . 
http://www.pawtree.com/plumcreek
Non refundable deposit $400.00 if you use paypal there is $15.00 fee . If balance is paid with Paypal or credit card there is 3.5% fee.
We are know take deposit through cash app. please text melissa at 724-541-7548 and I will send the link for my cash app account. The reason no fees for either of us. 
Prices will reflex on Aug litter 
solid color with minimal abstract markings 2000.00  mini  2500
Bold abstract marking 2250 mini 2750
party color white with red markings 2500   mini 3000
All pups receive the standard deworming every 2 weeks, Microchipped soon after birth for ID , vaccinated at 6 weeks and vet checked before leaving .
 the Irish doodle is the combination of Irish Setter and Poodle. These pups are an F1 witch means they are 50% Irish Setter and 50% Standard Poodle. Their weight will be around 55-65lb . The Pups should have bold abstract marking on their rich red color. Low shed coat with a loose wave. The red in their coats shouldn't fade. Irish Doodles don't have the under coat like a golden doodle . Their coats will be finer silkier hair witch should help with lower shed and less mats.
F1B Irishdoodle are 75%poodle and 25% Irish setter their color should be abstract,tuxedo and parti red and white.
fall litter deposit
1.Jillian Male
2. Angela Female
3. michael Dunn
4. Bridgett
5. Mathew