Plumcreek's Have Faith In Me
Faith is the Daughter of Ch RUS Pekos UMKA Beliy Mishka witch was imported from Russia. She has Multiple champions behind her . She is also backed by generations of Health tested parents . She is a real sweet girl who I have had the pleasure to own. I am looking forward to the future pups we will be producing with Faith and her sister Duchess.
 The Royal Duchess Of Plumcreek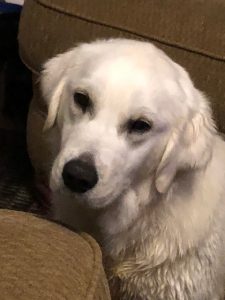 OFA – Hips preliminary Good elbows Normal
PRA 1 and 2 – Clear
Muscular Dystrophy – Clear
Duchess is a little heavier boned than sister Faith. She too has a wonderful personality . We are hoping to get her to a couple shows this year.  With Duchess and Faith our breeding program is looking really good .
---
Plumcreek's Montego Clair Sky
OFA – preliminary Fair
PRA 1 and 2 – Clear
Muscular Dystrophy – Clear
Clair is a sweet dog with a laid back personality. She has the look to show but she doesn't enjoy her show ring time. Clair would much rather just hang out and get belly rubs than to run around a show ring. Clair is a great mother who has had 3 pups go into therapy dog training.
Clair puts nice white coats on her pups.
---
---
Nat CH BOB Plumcreek's Princess Ada
Ada is Bred to Ryder due is Qct.
OFA – preliminary Good
PRA 1 and 2 – Clear
Muscular Dystrophy – Clear
Ichithyosis Carrier
Ada is happiest when playing ball with her people. She had a smooth gait and a very happy go lucky personality. She is a nature show dog. Her first time in the ring she won Breeder owner handler for her breed ,group and 3rd over all. She also went Best of Breed. She is now an National champion . We look forward to showing her more. She done this just 2 weeks after weaning a litter of 9 pups. She is the daughter of Dixie and Copper and full litter mate to Bella. Ada will be breed this fall to Ryder I look forward to share pictures of those twos babies.
---
Plumcreeks Cupid's Rose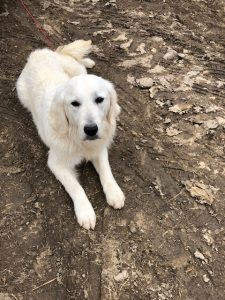 OFA -preliminary good/Elbows Normal
PRA 1 and 2 – Clear
Muscular Dystrophy – Clear
Rose is the daughter of Bullet. She has a sweet loving personality. She is a little food driven hope to use that in our favor in the show ring. She loves everyone and everything.  Rose has a sweet face and smooth gait.
Willow of Plumcreek to Goldset & Wishing Star Plumcreek At Goldset
We have imported 2 sisters from Goldset Kennel in Romania . We are excited to see the progress they make to our breeding program.They are big boned with nice heads.They have a great gait and wonderful pedigree.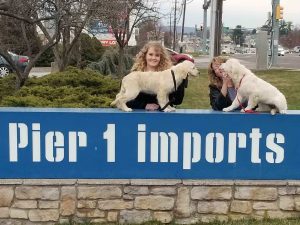 ---
Int CH BOB Plumcreek's BVG's Remy (Emma)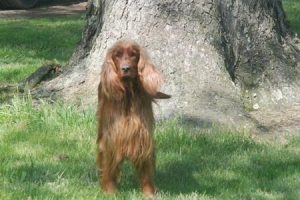 Emma is a fun loving girl. Who enjoys her visits to the nursing home. She loves to be center of attention. She enjoys her time in the show ring were she can show off her smooth gait and luscious locks. Emma has a great nose that gets her in trouble sometimes. She can't pass up pumpernickel bread even when no one else has had any.
---
---
---
Plumcreek's Rocco's special Benelli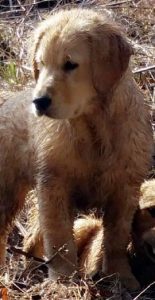 Cooper and Roxy's daughter, Grandaughter of Rocco and Reba.
PRA 1 and 2 – Clear
Muscular Dystrophy – Clear
Ichthyosis – Clear
OFA Preliminary – Good
---
Plumcreek's Sweet Giner Snap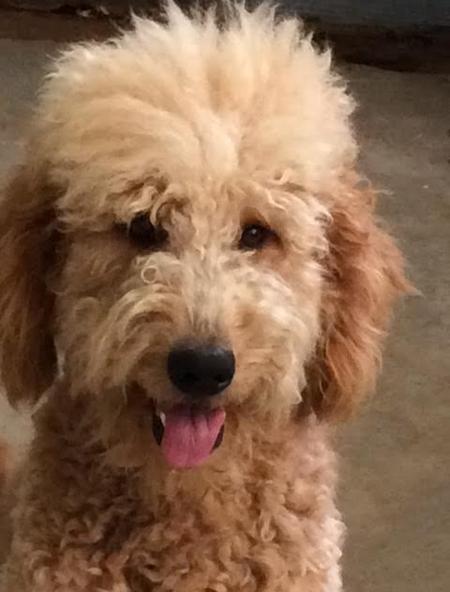 Ginger is a sweet F1 standard with a loving personality. She is a full sister to Plumcreek's Sweet Ali Girl. She is a medium red color with apricot highlights.
PRA 1 and 2 – Clear
Muscular Dystrophy – Clear
NEws – Clear
DM – Clear
OFA Preliminary – Good
Excited to introduce our new females from CH RUS Pekos Umka Beliy Mishka .Pics are pending.