Rocco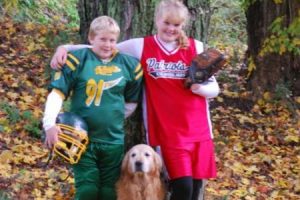 Rocco was our first Golden Retriever. He went over the Rainbow Bridge 2 years ago. He lived a nice life and gave us 12 years of memories. Rocco is missed everyday.
Reba & Gretchen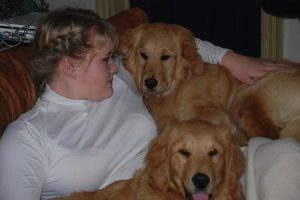 Reba and Gretchen were 2 of our first females. Reba is the mother of Roxy (1) and Gretchen is the mother of Lucy.
Keisel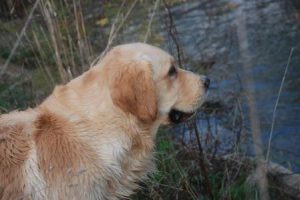 Keisel is the father of Lucy and is retired to the life of a therapy dog.
Lucy & Roxy
Two of our favorite girls. They are both retired and living the life of spoiled family pets. Roxy is the mother of Chleo, Roxy (2) and Nellie. Hope they enjoy many more years in their new lives! We miss them
Int/ Nat BOB CH Plumcreek Sir Mighty Kissin Copper
OFA: preliminary Good
Elbows: Normal
PRA 1 and 2: Clear
Ichthyosis: Clear
Muscular Dystrophy: Clear
Stud service to approved females only.
Price to buy 4000.00 Sold waiting pick up
Cooper was my main man at Plumcreek. He is such a pleasure to own. Cooper has a happy go lucky personality that many of the judges have commented on in the show ring. He passes that award winning personality on to his offspring. Cooper loves to please people. Cooper is my pride, winning Best of Breed several times and earning his International and National champion title. We just love this dog. We have kept 5 of his daughters to pass on his winning spirit! Cooper is 22 inches tall and 73lbs . Cooper has sired many litters I have kept his daughters and that is why I am selling him. Cooper is a pleasure to show he loves to make you happy. He is doggy door trained and was house trained.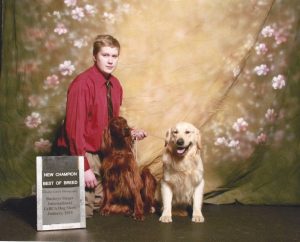 PRA 1 and 2 – Clear
Muscular Dystrophy – Clear
Ichithyosis CarrierDixie is a climber of 6 ft fences and likes to jump from the top. Her hips were never x-rayed. All offspring tested has passed prelim. She is a sweet girl who enjoys family time. She can never pass up a belly rub. Dixie is retired and living the life as a couch potato.
Dixie Pedigree